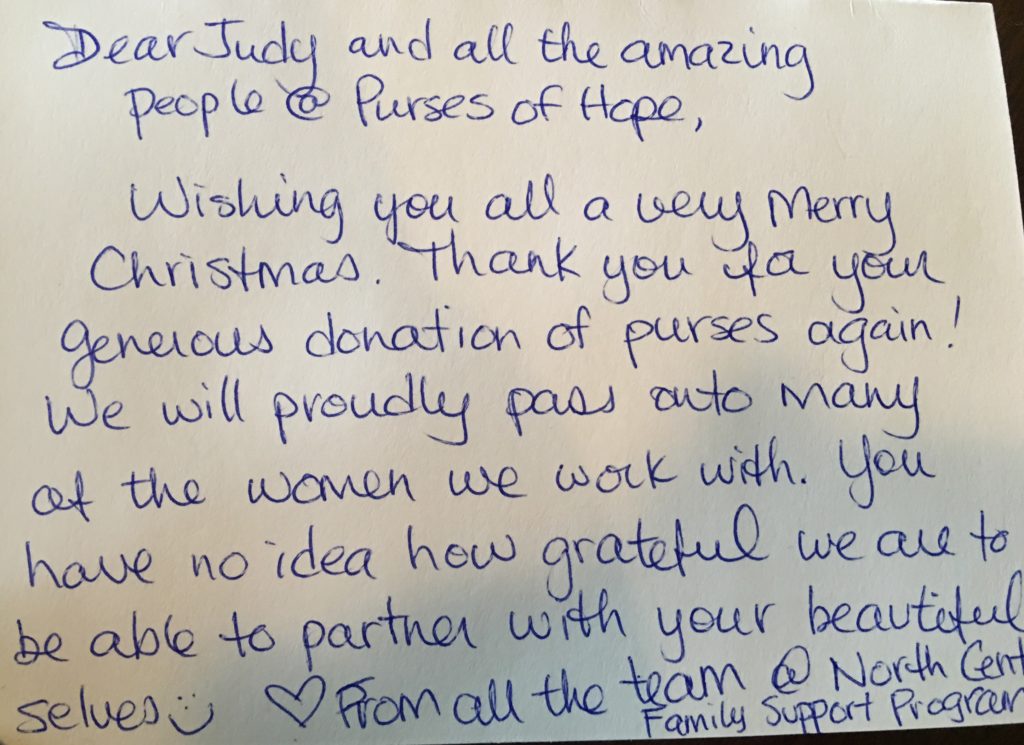 Our recipients are women that are struggling to rebuild or improve their lives. We strongly believe that a gift from a complete stranger can give these women the message that someone cares.
It is important to us that our donors know that we work with social agencies, churches, and charitable organizations that we have confidence in and know that they will distribute the purses to those who need the message of HOPE.
We have developed rapport with many of these agencies and are often led to other agencies that work so hard to improve the lives of so many. Many share feedback from the recipients that the gift of a purse truly does represent HOPE and are always amazed that someone out there CARES.
We are proud to share that in 2018 we distributed 855 Purses through these agencies.
---
Airdrie P.OW.E.R.
Aventa Centre of Excellence for Women with Addiction
Calgary Dream Centre
Calgary Drop In Centre-3rd and 5th Floors
Calgary Immigrant Women's Association-CIWA
Crossroads Community Church
Daybreak – airdrieabilities.ca
Deer Park United Church
Emma House
Fresh Start Recovery Centre
Inn From The Cold-Journey House,HIS,ACM
Making Changes-The Walk In Closet
Narrow Road Home
North Central Family Support Program
Recovery Acres Society 1835 House-Care for Women
S.E. Community Resource Centre
Salvation Army Centre of Hope
Sundial Apartments-Bridgeland Manor
Sunrise Native Addiction Services Society
YWCA of Calgary-Mary Dover Transitional Housing/Sheriff King Home