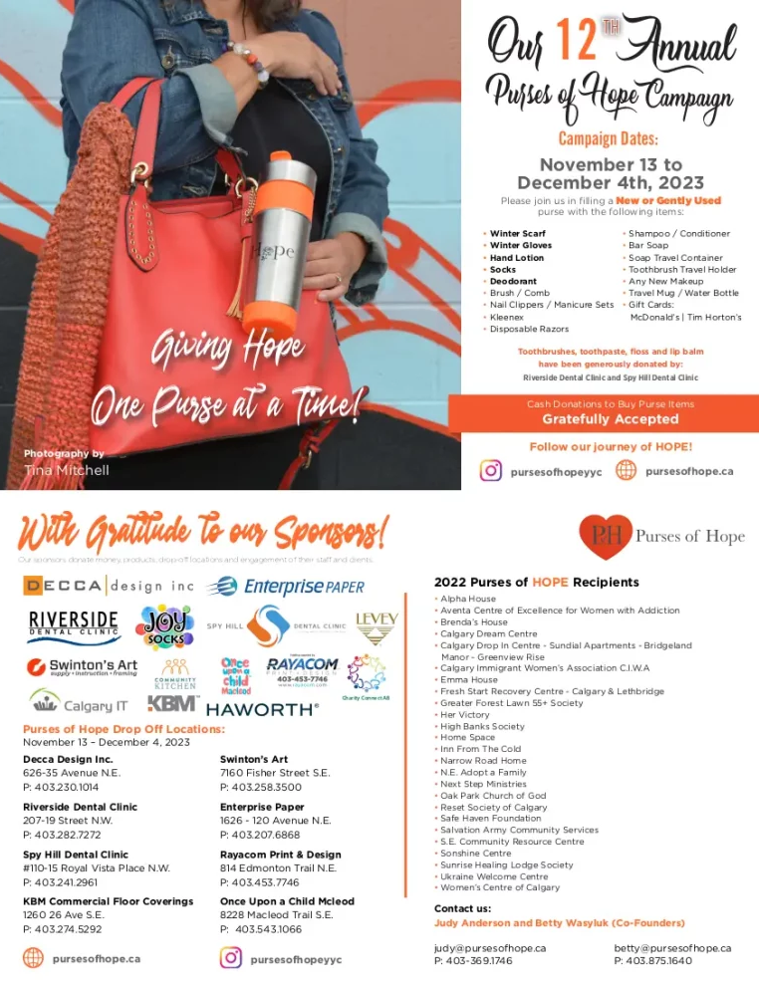 Our recipients are women and men-"our Sisters' and Brothers', that are struggling to rebuild or improve their lives. We strongly believe that the gift of a purses, filled with essentials, from a complete stranger can give these women and men the message  of HOPE  and that 'SOMEONE CARES'.
It is important to us that our donors know that we work with social agencies, and  other not- for- profit organizations to  distribute the purses. Our Volunteers sort and fill the purses with as many items as we have donated, and ensure that each purse is "safe" and that the contents are consistent.
We are proud to share we distributed 1295 purses in the 2022 campaign bringing our total collected to 6,938 purses!!
---
Alpha House
Aventa Centre of Excellence for Women with Addiction
Brenda's House
Calgary Dream Centre
Calgary Drop In Centre-Sundial Apartments-Bridgeland Manor-Greenview Rise
Calgary Immigrant Women's Association-CIWA
Emma House
Fresh Start Recovery Centre-Calgary & Lethbridge
Greater Forest Lawn 55+ Society
Her Victory
High Banks Society
Home Space
Inn From the Cold
N.E. Adopt a Family
Oak Park Church of God
Reset Society of Calgary
S.E. Community Resource Centre
Safe Haven Foundation
Salvation Army Community Services
Sonshine Centre
Sunrise Healing Lodge Society
Ukraine Welcome Centre
Women's Centre of Calgary